via: Pexels.com
When it comes to car maintenance, one of the most asked questions is, "which is the best motor oil for my car?"
Simple as this question sounds, it can be quite complicated to choose the best motor oil for your car due to some various reasons we will soon look into. And this is a very important question as motor oil is a very important part of your car. Without it, the engine will seize, and yes, that can also be translated as cease as that will be the end of the journey for your car – forever.
What is the Purpose of Motor Oil?
via: Unsplash.com
Perhaps you're wondering what purpose motor oil serves in your car. After all, where purpose is not known, abuse is inevitable as they say. And many a car owner are abusing their cars by using any motor oil they lay their hands on.
So what is the purpose of motor oil?
Motor oil serves 3 main purposes in a car, and all 3 a critical to the health and performance of your car.
Lubrication – An engine is made up of moving metal components that are constantly rubbing against each other. Motor oil provides the lubrication needed to allow these movements to be fluid and also to keep the components (like pistons) from damaging each other.
Cleaning – Another important function of motor oil is cleaning the engine. When the engine is running, the combustion process produces some by-products that create sludge in the engine. Motor oil contains some chemicals that help get rid of that sludge and keep the engine clean and healthy.
Cooling – Say what? I thought the antifreeze does that! The antifreeze you pour into your radiator only cools the top part of your car's engine. The lower part, the part that has greater heat producing components like the crankshaft, pistons, timing gears, and a few others are cooled by the motor oil.
That is why when your engine is low on oil, the temperature gauge goes up.
The Best Motor Oil is a Necessity, Not a Luxury
Do you now see why motor oil plays such a big role in your car's performance and durability? That is why you need to make sure you get the best motor oil for your car if you want it to be reliable in taking you from point A to point B.
Using the wrong engine oil for your car can affect your car in a number of ways. For one, it can reduce the lifespan of your car. Another reason you need to pay special attention to the motor oil you use is the fact that the wrong one can actually lead to your engine being less efficient. You'll see the results in the increased fuel consumption.
In a nutshell, the best motor oil is not a luxury, it's a necessity every car needs if it is to give you the best performance it has – and that for a long time.
3 Important Factors to Note Before You Buy Your Motor Oil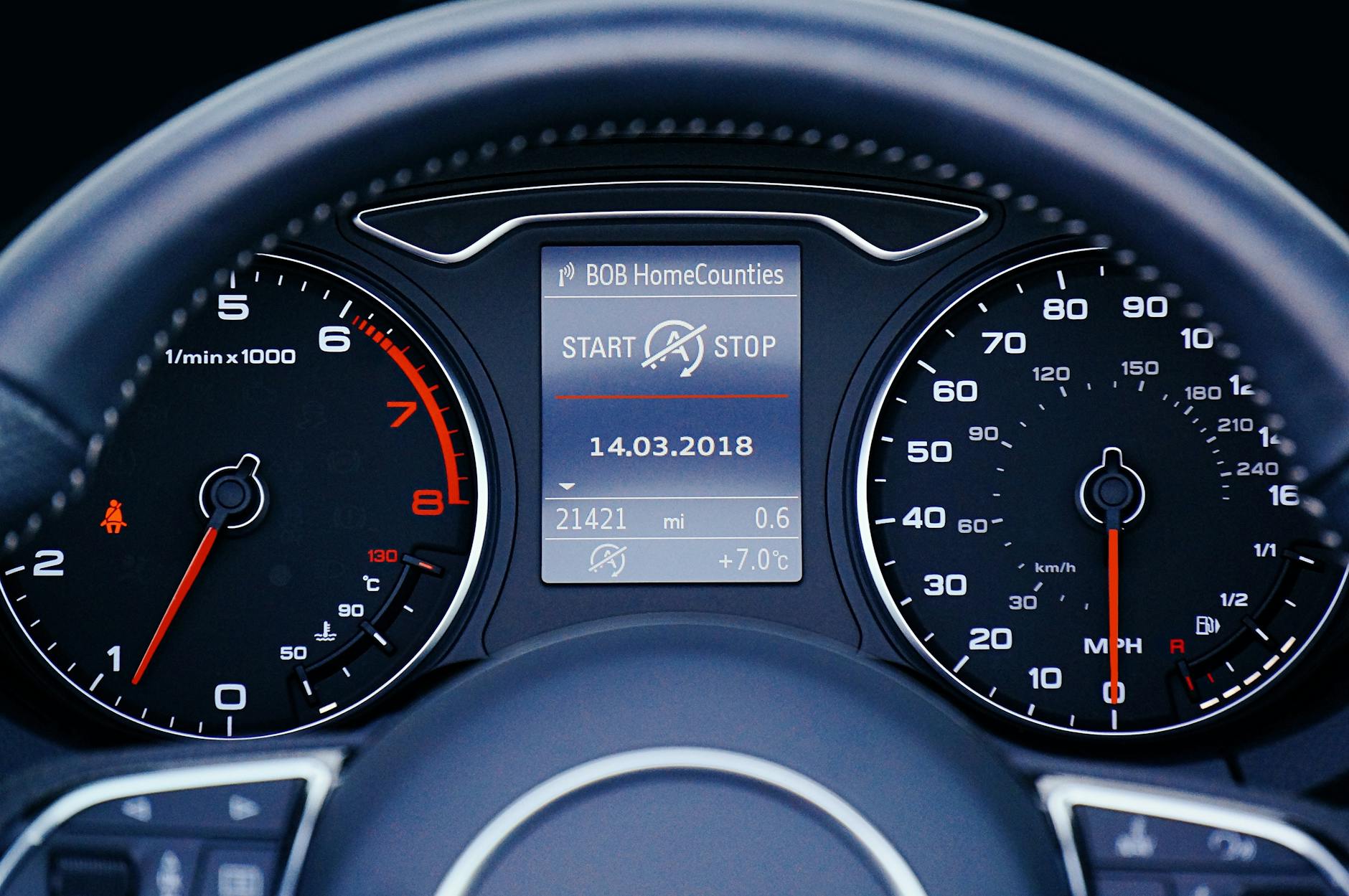 via: Pexels.com
Before you pick the best motor oil, there are 3 main things that should direct your purchase. This is because different engines have different needs when it comes to motor oil. In order to get the right oil, you will need to check:
The Car's Manual – Who better to tell you the best motor oil for your car than the one who made the car right?
Before you buy your motor oil, make sure to consult the manual for the recommended oil and oil change procedures. Ignoring the manufacturer's recommendations could land you in an expensive mess down the road.
Viscosity – In order to understand viscosity, you'll need to understand the fact that oil behaves differently at different temperatures. At high temperatures, it thins out and becomes more fluid while at low temperatures it thickens and becomes harder to pump.
Different oils have different viscosities, making other oils more efficient at certain temperatures than others. The Society of Automotive Engineers developed a rating to help car owners to easily know the viscosity of motor oils. That is the prominent code that every motor oil features on its packaging – xxW-yy. "Xx" represents viscosity at lower temperatures while "yy" represents viscosity at higher temperatures. The "W" stands for winter.
Oils with lower "xx" ratings are designed for use in cold climates and don't thicken at those low temperatures. Those with high "yy" ratings are designed for hot climates as the oil won't easily thin out at those high temperatures.
Mileage – Your car's mileage also plays a big role in the type of motor oil you get. Most high mileage cars, for instance, require conventional oils. That is especially if they started their lives running on conventional oils.
Synthetic motor oils are the best as they are specially formulated to prolong the engine's life and enhance cleanliness and performance.
Now that we've got all that out of the way, let's look at 7 of the best motor oils you should consider for your next service.
​​​​​The Best Motor Oil for Your Car – 7 Brands You Should Know
If you value your car and want it to serve you well for a long time, then you need to be willing to get it the best motor oil you can. Although most of these will be a bit more expensive than some of the other oils you buy in the name of frugality, in the long run, these quality oils will be cheaper.
So let's get you the best motor oil for your car, shall we?
1. Mobil 1 Extended Performance (5W-30)
Mobil 1 Extended Performance Full Synthetic Motor Oil 5W-30, 5 Quart
Mobil 1 Extended Performance full synthetic motor oil 5W-30 helps to protect your engine from the five factors that can...
Helps to protect critical engine parts for up to 20,000 miles between oil changes*, controlling oxidation to prevent oil...
Meets ILSAC GF-6 standards to help provide low-speed pre-ignition (LSPI) and timing chain wear protection while keeping...
5/5 stars
Mobil is a force to reckon with in the motor oil industry as they have been in the game for a long time and have developed a deep understanding of what each car needs.
The Mobil 1 Extended Performance 5W-30 motor oil is a highly respected synthetic motor oil with a 5W-30 viscosity rating. That makes it suitable for most cars and most environments as well. It has been formulated to improve engine life, thanks to the additives that do a great job of cleaning and protecting your car's engine.
If you are looking for the best motor oil that can do a good job of keeping most car engines running smoothly, then this is it. It definitely is a 5-star motor oil you need to put at the top of your list. And coming with a $36.59 price tag, it certainly is a worthy investment.
2. Royal Purple HMX
5/5 stars
Another titan in the automotive oil industry is Royal Purple. With the Royal Purple HMX, they formulated a motor oil that keeps oxidation inside the engine block at a minimum thereby increasing the lifespan of the engine.
The advanced formula also increases the oil's ionic attraction to metal surfaces, a very important property that the best motor oil should excel in as it ensures maximum lubrication. Royal Purple HMX is one of the best motor oils on the market for those who want to have an engine that will be healthy even after very high mileages have been covered.
This $12.99 per quart motor oil earns itself 5-stars for its excellent performance.
3. Valvoline Premium Conventional (5W-30)
5/5 stars
If you are looking for the best motor oil as far as conventional oils go, Valvoline Premium Conventional motor oil is it. Valvoline is one of the oldest motor oil company with experience spanning more than 150 years, so yes, you can trust them to keep your engine running for a long time too.
Ask any conventional oil fanatic which motor oil they use and you'll find that most of them swear by Valvoline and that for good reasons too. Apart from being easy to find, Valvoline Premium Conventional motor oil does an excellent job of providing premium protection, cooling, and cleaning for older cars – both turbocharged and non-turbo engines.
For the best conventional motor oil, look no further than Valvoline, especially since $17.87 gets you a 5-quart container. For its very affordable price tag and excellent performance, this motor oil gets 5 stars.
4. Shell Rotella T6 5W-40 (Synthetic Diesel Motor Oil)
Shell Rotella T6 Full Synthetic 5W-40 Diesel Engine Oil (1-Gallon,...
For best performance, follow the manufacturer's recommendations in your vehicle owner's manual.
Better fuel economy - compared to 15W-40 oils Rotella offers enhanced fuel economy capability of 1.5% without...
Improved wear performance - provides a significantly increased level of protection against harmful engine wear when...
5/5 stars
Perhaps you are driving a diesel-powered car and you are wondering what the best motor oil for diesel engines is. Shell has the answer for you with its Shell Rotella T6 5W-40 motor oil.
Formulated to offer triple protection, this motor oil does an excellent job of reducing engine wear, contaminant deposits, and also helps keep the engine from overheating. Apart from its excellent performance, the Shell Rotella T6 has the perfect thickness for turbo-charged engines as it is thick enough not to seep through the turbo seals, thus minimizing unnecessary oil loss. That, in the long run, means less money spent topping up your motor oil.
And at the great price of $38.99 per gallon, this is certainly a great investment. This is another motor oil deserving of its 5-star rating.
5. Castrol Magnatec
5/5 stars
One of Castrol's biggest strengths as a company is innovation. And that couldn't be any clearer than in the Castrol Magnatec line of motor oils.
This is a fully synthetic motor oil that qualifies to be the best motor oil due to its "intelligent molecules" from which the motor oil derives its name. These molecules have an intelligent magnetic property that makes them stick to the parts of the engine they are needed the most. Most engine wear happens in the first 10-20 minutes of the engine warming up due to the oil having "slipped" to the more central parts of the engine.
Castrol's Magnatec formula combats that by ensuring the essential parts in the engine are lubricated in those critical first few minutes.
If you thought this intelligent motor oil would come at a princely sum, you'll be surprised to know that $21.44 gets you a 5-quart bottle of this 5-star oil.
6. Pennzoil Motor Oil
Pennzoil 5W-30 Motor Oil (5-Quart, Single-Pack)
Synthetic blend 5W-30 engine oil formula that keeps engines clean and responsive
No leading synthetic blend oil provides better wear protection (Based on Sequence IVA wear test using SAE 5W-30)
Helps prevent sludge and other damaging deposits (Based on Seq VH Sludge Test)
5/5 stars
When it comes to a clean engine Pennzoil is probably the best motor oil for the job. Their angle is that a clean sludge free engine improves your car's performance and fuel efficiency – and they are right. This is because by keeping the engine clean, the components are better able to move freely thus enabling the engine to perform at its optimum capacity.
As a testament to the quality and effectiveness of this motor oil, car giants like Ferrari are adopting it as their motor oil of choice. Although it won't turn your car into a Ferrari, it is a very good motor oil to invest in. With the 5W-30 5 quart retailing at $29.76, this 5-star oil is definitely a bargain to consider.
7. Castrol EDGE 0W-40
5/5 stars
For high-performance engines, the best motor oil is definitely the Castrol EDGE 0W-40 motor oil. This fully synthetic motor oil offers the very best of both worlds as it remains very fluid at low temperatures while also being able to provide superb protection against friction at high temperatures.
The only downside to this motor oil is its steeper price when compared to other motor oils – a 5-quart 3 pack costs $112.00. But for a performance car, it is well worth it as the engine requires nothing but the best if it is to last long and perform well.
This motor oil definitely deserves a 5-star rating, and that is what it gets.
The Best Motor Oil for Your Car
Having looked at all the qualities that make for the best motor oil and having looked at 7 of the best examples of class topping motor oils, it's time for you to select your top choice.
But before you do, revisit the owner's manual for the recommended oil type and viscosity. Apart from that, these oils will definitely save you a lot in the long run as they do a good job of providing excellent protection, lubrication, and cooling to your engine.
Last update on 2021-09-30 at 05:55 / Affiliate links / Images from Amazon Product Advertising API